ED-ISS-100-MD
ED-ISS-100-MD
ED-ISS-100-MD
ED-ISS-100-MD
Este producto está descatalogado, consulte las alternativas que se muestran a continuación en Productos similares o póngase en contacto con nosotros directamente.
Productos alternativos para este producto descatalogado:
ED-ISS-100-MD
Control electronic for integrating sphere sources
Precise 16 bit D/A power supply for lamps up to 100 W
Optometer for intensity or RGB monitor detectors
19" bench top housing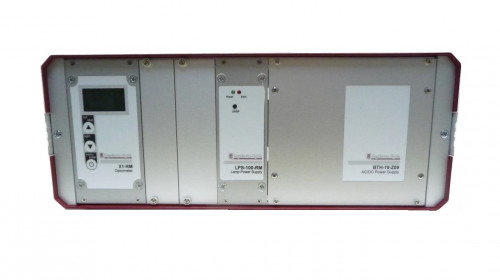 Integrating sphere light sources can be operated using halogen lamps up to 100W using the ED-ISS-100-MD. The X1-RM optometer enables display of the luminance and color temperature at the sphere output when the integrating sphere is equipped with an RGB monitor detector. With the X1-RM, the lamp power supply can be manually or remote controlled via the RS232 interface. The LPS-100RM lamp power supply ensures high precision current adjustments with its 16 bit D/A converter for lamps up to 100W and max. 14V operating voltage.