BTS2048-UV-S
BTS2048-UV-S
BTS2048-UV-S
BTS2048-UV-S
Este producto está descatalogado, consulte las alternativas que se muestran a continuación en Productos similares o póngase en contacto con nosotros directamente.
Productos alternativos para este producto descatalogado:
BTS2048-UV-S
Measure in the UV with this high-quality compact spectroradiometer
High stray light reduction comparable to double monochromator
Ultra fast interface and electronic shutter
High optical resolution
Ideal for all kind of measurement tasks (UV LED, Deuterium lamp, Tungsten lamp to solar radiation)
High stray light reduction helps to transfer a precise calibration to precise measurements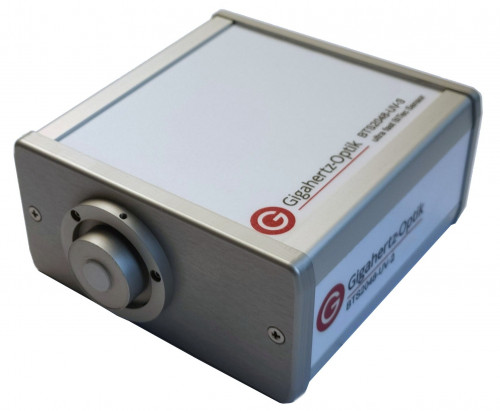 Nominated for the Innovation Award Bavaria 2018
BTS2048-UV-S fast BiTec sensor spectroradiometer for high-quality UV measurements
The BTS2048-UV-S is a high-quality spectralradiometer whose compact design and elaborate optical, electronic and mechanical interfaces make it ideal for integration in complex industrial and scientific measurement tasks.
BiTec sensor for high-end light measurement
One of the outstanding features of this exceptional spectroradiometer is its BiTec sensor (see technical article about BiTec sensor). This combines the special properties of a photodiode with those of a back-thinned CCD diode array. Through bilateral correction of measurement signals from both sensors, the BiTec sensor ensures precise radiometric and spectral-radiometric measurement values over a large dynamic range.
High-quality back-thinned CCD detector
The diode array comprising of 2048 pixels has a utilizable spectral responsivity range between 190 nm and 430 nm. It has a 0.7 nm optical bandwidth and a pixel resolution of 0.13nm/pixel. Due to the back-thinned technology, this CCD chip is substantially more sensitive as compared to conventional front-illuminated CCD chips. Furthermore the CCD is one stage cooled (1TEC).

Flash spectral radiometer

Another of its features is that the back-thinned CCD detector is equipped with an electronic shutter. This makes the measurement within a light flash possible. Together with the diverse trigger functions, integration times of between 2µs and 60000ms, the powerful micro-processor and the very fast LAN interface (7ms for a complete data file), the BTS2048-UV-S qualifies for a wide range of applications.
Precise spectral radiometry (low straylight)

To facilitate optimal use of the CCD sensor's dynamic range and to overcome the problems of most array spectoradiometers in the UV range, a remote-controlled filter wheel (open, closed, optical filters) is located in the optical beam path. This filters combined with smart measurement and stray light correction routines enables high quality measurements of the BTS2048-UV-S. Results are comparable with double monochromator results (see figure). However, the measurement duration is significantly lower.
The BTS2048-UV-S is equipped with a particular set of filters optimized for solar irradiance measurements of e.g. sun simulators, etc. Those allow a superior stray light suppression compared to other spectroradiometers that puts the device's performance on the same level as double monochromators. The results of a direct intercomparison study are presented here. See here also our BTS2048-UV-S-WP version for outdoor measurements.
However, the BTS2048-UV-S cannot only be used for solar irradiance measurements but for the measurement of other UV sources as well. It also offers two different optimized measurement modes using optical filters for general stray light corrected measurements. One of those modes is based on an out-of-range straylight correction and the second one is based on bandpass filter usage for stray light correction. Gigahertz-Optik's stray light calibration technique in combination with further mathematical stray light correction methods enable the superior stray light suppression when measuring UV sources. See also our technical article about stray light reduction for spectroradiometers. The calibration of a BTS2048-UV-S additional stray light correction matrix is available optionally on request.
Diffuser window instead light guide
As for the input optics, the BTS2048-UV-S has an incorporated diffuser window with a cosine corrected field of view. The fact that a light guide has not been used improves sensitivity and calibration stability. The f2 adjustment of the cosine corrected field of view to less than 3% makes it possible to use the BTS2048-UV-S for direct measurement in absolute radiometric measurands
Irradiance (W/m²)
Spectral irradiance (W/(m² nm))
Radiant intensity (W/sr)
Spectral radiant intensity (W/sr nm)
Radiant power measurement
In connection with integrating spheres, the BTS2048-UV-S is the optimal light meter for measurement of the radiant power respectively spectral radiant power. The prefixed diffuser window can be positioned in the sphere such that an uninterrupted hemispherical field of view is created. Gigahertz-Optik manufactures a wide range of integrating spheres as well as the necessary accessories e.g. calibration standards.
Ultra fast interfaces
The BTS2048-UV-S is controlled via a USB 2.0 or Ethernet interface. With regards to the communication speed the ethernet port is superior to the USB2.0 interface. Furthermore, the data preparation occurs in the BTS2048-UV-S to optimize the datatransfer speed. For this purpose, an independent, high-performance microprocessor is incorporated.
User software with flexible desktop structure
Among the BTS2048-UV-S delivery contents is the S-BTS2048 user software. One of the characteristic features it has to offer is the flexible desktop that can be individually configured by the user. This entails a potpourri from which the user can choose graphical and numerical display windows:
Freely definable numerical displays in decimal or scientific representation. Zoom function.
Numerical display fields for radiometric, spectral and other measurands.
Measurement protocol of the selected measurement parameters.
CIE 1931 chromaticity diagram. Zoom function.
Spectrum. Zoom function.
Data logger. Zoom function.
etc.
Traceable calibration
Calibration of the BTS2048-UV-S, including its accessories, is performed by Gigahertz-Optik ISO/IEC 17025 calibration laboratory for optical measurands with reference to national and international calibration standards.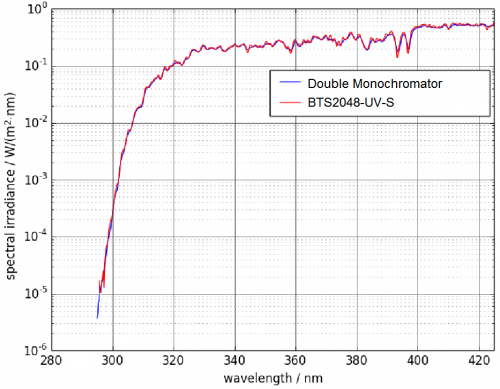 Comparison of a solar measurement of the BTS2048-UV-S and a standard double monochromator. The BTS2048-UV-S achieves about the same quality in a measurement time of a few s compared to about 1.5 min of the double monochromator.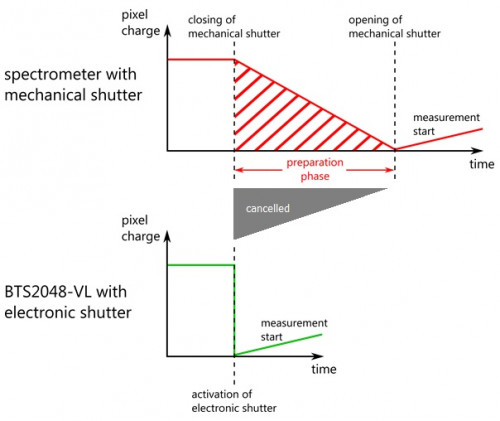 Electronic Shutter reduces the measurement time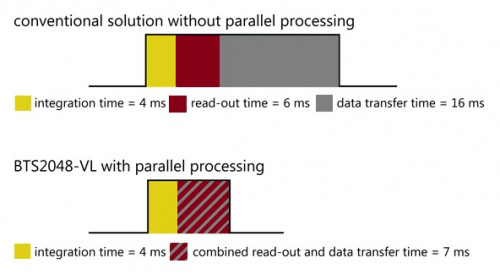 Ethernet interface reduces the datatransfer time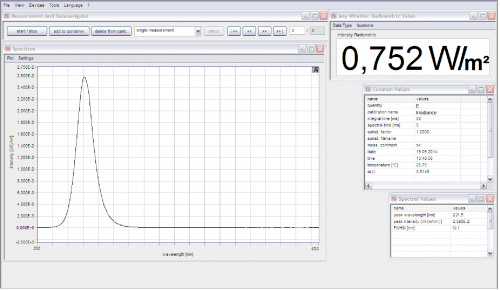 S-BTS2048 software for the BTS2048-UV-S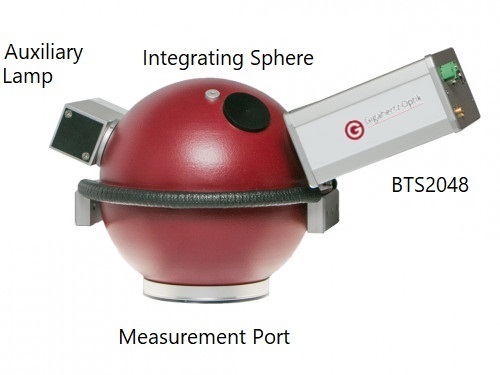 The BTS2048-UV can directly plugged on a integrating sphere (picture shows the constructional identical BTS2048-VL)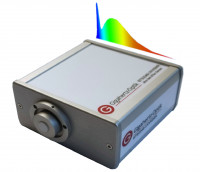 Compact spectroradiometers with excellent optical performance and BiTec technology for precise measurements for lab and field use.