LCRT-2005-S+850
LCRT-2005-S+850
该产品已停产,请参阅下面类似产品下显示的替代品或直接与我们联系。
LCRT-2005-S+850
Light and 850 nm transmission hand-held meter for thin and flat samples
Fast and precise because of spectral monitor and luminance detector
Automatic ambient light compensation
Alignment camera
ECE R43 compliant
A, C, D65 and 850nm light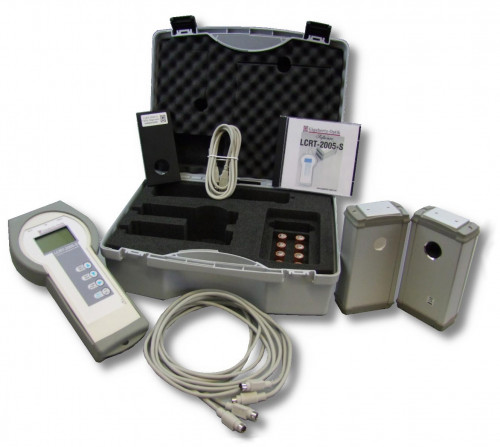 Light transmission and spectral transmission
Light transmission is the visually sensed light permeability of materials. NIR transmission is a physical measurand without actinic effect on the measurement values. Light transmission is particularly important when it comes to specification of window panes on all types of vehicles and buildings whose transmission is assessed with the photometric responsivity (V(λ)) of the human eye. In connection with thermal insulation screens, solar cell windows transmission in the NIR spectral range can also be of great importance.
---
Transmission and light transmission measurement
Transmission is a relative measurand. It describes the signal difference of the measured luminous intensity in a geometrically defined radiation beam. The measurements are done both without a test sample (100%) and with a test sample.
---
LCRT-2005-S+850 light transmission measurement device
The LCRT-2005-S+850 is elaborately designed for light transmission measurement of thin, scratched and clear samples. The D/O measurement geometry comprises of an integrating sphere light source and a luminance measurement device. The monitor detector of the light source and that of the receiver are equipped with a diode array. The spectral measurement data enables precise simulation of the standard light spectra and the photometric responsivity spectrum of the receiver. The sample is aligned in front of the light source for measurement. The transmittance can thus be determined through diffuse sample illumination also for thin diffuse scattering samples.
---
LCRT-2005-S+850 spectrophotometer
The LCRT-2005-S+850 can also be used as a spectrophotometer due to its spectral measurement detectors in source and receiver. The spectral range is between 425 nm and 705 nm. An extra NIR LED in the light source and a silicon photodiode in the receiver make it possible to measure the transmission at 850 nm.
---
Measurement device for freehand measurements
The integrating sphere light source is well guarded against shock and stains by its synthetic coating, LED lamps and the protective glass on the illumination field. In order to minimize any effects by ambient light, the measurement is performed using pulsed light. The device is also equipped with a camera to aid in alignment of the source and receiver for freehand measurements. The device can be powered using four AA batteries or via USB. A hard-top casing is also supplied for safe storage and transport of the device as well as its spare batteries and accessories.
---
Fast and safe freehand measurements
One of the characteristic properties of the LCRT-2005-S+850 is its ability to easily perform fast measurement in only a couple of minutes:
1) Connection of the source and receiver
2) 100% matching
3) Alignment to the test sample
4) Automatic start of the measurement
5) Display of the measurement values
---
USB interface with readout software
The USB interface enables data readout and power supply. The software delivered with the device can be used for measurement data readout.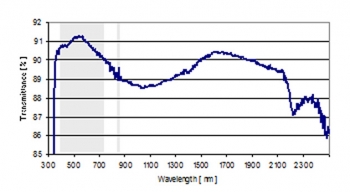 Typical spectral transmission of a float glass pane with characteristic NIR absorbance effected by iron oxide together with the spectral measurement range of the LCRT-2005-S+850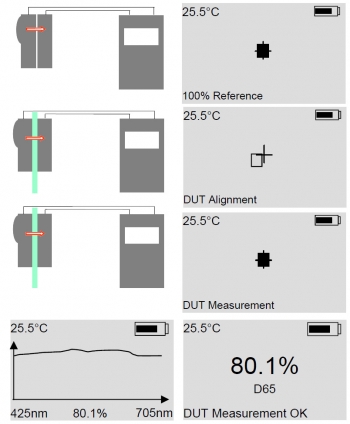 Freehand light transmission measurement: 1) 100% matching 2) sample alignment (DUT) 3) automatic measurement start upon setup, 4) Display of the measurement values