DAkkS - ISO/IEC 17025
The DAkkS ist the national accreditiation council in Germany. It is following the (EG) Nr. 765/2008 and the accreditation law (AkkStelleG) of Germany.
Please find our scope of accreditation and the accreditation document in the Calibration Laboratory section.

To ensure the highest quality of traceable calibrations our laboratory has been accreditatied for the measurands spectral irradiance and spectral sensitivity by the DKD and Physikalisch-Technische Bundesanstalt (PTB) (Registrierungsnummer DKD-K-10601). The EN 45001
certification allows us to provide our customers products on the highest technical level. Since 2010 the DKD is not anymore responsible for the accrediation in germany, a new facility has been established, the DAkkS. Since them our laboratory is ISO/IEC/EN 17025 accreditaited under the name (D-K-15047-01-00 des DAkks).

CIE
The CIE is one of the most important internatioal commissions on illumination. A couple of industiral and scientific important standards has been published by the CIE.
Gigahertz-Optik offers a large scale of products which meet the common standards and instructions. Furthermore Gigahertz-Optik is supporting the normative work of the CIE. As an acceptation of the CIE normative work Gigahertz-Optik made the decision to support the CIE as a "Silver Supportive Member".
DIN
Gigahertz-Optik is an active member of DIN and, for example, actively participates in the color standard light committee (FNL).
DKD
The Deutsche Kalibrierdienst (DKD) is since 3.5.2011 a committee of the PTB, who is continueing the work of technical committees. It ensures the cooperation of the PTB and the accreditated calibration laboratories.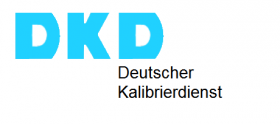 The major goals of the DKD are the promotion of the calibration quality and the information exchange of guidelines between the partners.
These goals are acchieved by the following tasks:
Inform the members about new national and international developments in the field of calibration
Active work within the national, european and international standardization in the fild of calibration
Publication of papers and technical articles
Legwork in the technical committees of the accreditation facility (DAkkS)
Promotion of traning courses for contributers in the field of calibration
Inform the publicity about work of the DKD
Promotion of intercomparisons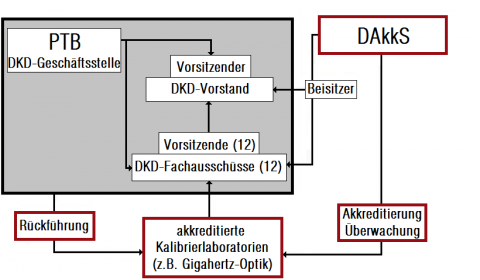 Gigahertz-Optik is an consultant partner in the technical meetings of the DKD. Furthermore intercomparisions and traceability checks are carried out.
Innovative through research
Gigahertz-Optik received the "Innovative through Research" award for the BTS2048-UV series.