Selected Certificates and Memberships
We at Gigahertz-Optik are very active in standardization as well as in technical committees (DIN, CIE, CORM, etc.). This is to contribute our expertise, but also to keep our products always compliant for you.
In addition to these activities, our innovative high-quality products regularly receive awards, which we are happy to present to you.
Therefore we present selected certificates and memberships here. This selection is intended to give an insight into our activities, but is by no means complete. We are part of many more like advance UV for Life just to name one.

DAkkS - ISO/IEC 17025
Our calibration and testing laboratory is ISO/IEC 17025 accredited. The DAkkS ist the national accreditiation council in Germany. It is following the (EG) Nr. 765/2008 and the accreditation law (AkkStelleG) of Germany.
We have obtained this quality standard for our calibration laboratory, but this is not the end of our claim. We try to apply these principles and this quality standards also to our products. In other words, our products benefit from the quality standard of our calibration laboratory.
Please find our scope of accreditation and the accreditation document in the Calibration Laboratory section.
To ensure the highest quality of traceable calibrations our laboratory has been accredited for the measurands spectral irradiance and spectral sensitivity by the DKD and Physikalisch-Technische Bundesanstalt (PTB) (Registrierungsnummer DKD-K-10601). The ISO 17025 certification allows us to provide our customers products on the highest technical level. Since 2010 the DKD is not anymore responsible for the accreditation in Germany, a new facility has been established, the DAkkS. Since them our laboratory is ISO/IEC/EN 17025 accredited under the name (D-K-15047-01-00 des DAkks).

CIE
The CIE is one of the most important internatioal commissions on illumination. A couple of industiral and scientific important standards has been published by the CIE.

Gigahertz-Optik offers a large scale of products which meet the common standards and instructions. Furthermore Gigahertz-Optik is supporting the normative work of the CIE. As an acceptation of the CIE normative work Gigahertz-Optik made the decision to support the CIE as a "Silver Supportive Member".
Made in Germany
Gigahertz-Optik production, development, calibration and sales & support are all located at the headquarter. Our products are Made in Germany and benefit by this close connection between all departments.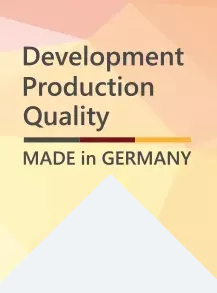 Innovative through Research
Gigahertz-Optik received the "Innovative through Research" award for the BTS2048-UV series. This underlines our goal to always be innovative in order to be able to offer our customers the best possible products.
Environmental protection is important to us

That is why we at Gigahertz-Optik use 100% electricity from renewable energy. This is certified by our supplier.