CSS-45
CSS-45
CSS-45
CSS-45
This Product is discontinued, please refer to the Alternatives shown below under Similar Products or contact us directly.
Alternative Products for this discontinued product:
CSS-45
Compact and cost effective spectral light detector for conventional and LED lighting
Simple operation directly via USB
Usable as detector head or
Directly mountable to integrating spheres (diameter 45 mm)
Many Measurands as: Photopic and scotopic illuminance measurement, color properties, CCT, CRI, PAR, Bilirubin
Plug & Play connection via USB including software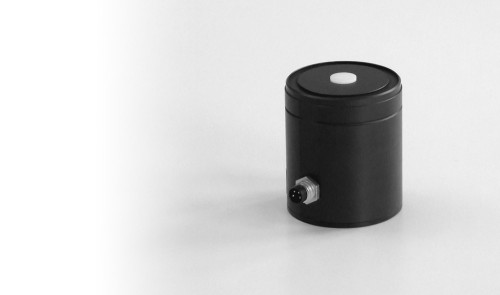 Some light measurement applications require the light sensor to be installed within a measurement system or operated remotely. Industrial applications often require integration with PLC systems. Continuous and remote operation requires light measurement sensors to be robust. For such tasks, Gigahertz-Optik offers the compact spectral light sensor CSS-45. It is a precise spectroradiometer covering the wavelength range 360 nm to 830 nm.
---
Spectroradiometer sensor with outstanding light measurement characteristics
Individual wavelength and linearity correction guarantee precise measurements of light sources irrespective of intensity and spectral distribution.
Mathematical bandwidth correction according to CIE 214 for accurate colorimetric measurements.
Another unique feature of the CSS-45 is its electromechanical shutter which enables the remote-controlled dark adjustment of the sensor. This is essential for temperature-independent and long-term operation of array spectrometers.
Diffuser with a precise cosine adjustment (f2 ≤ 1.5 %) for measuring the illuminance and irradiance of extended light sources and lighting equipment.
Wide range of illuminance measurement from 1 lx to 350.000 lx, covering applications from emergency lighting to broad daylight conditions.
---
Robust and compact
The compact metal housing features an M6 threaded hole and a V-groove around the device for universal attachment of the CSS-45. The dimensions are given in the technical drawing available for download. The housing with its splash-proof electrical connectors meets the requirements of protection class IP62. For IP65 rated protection, a sensor variant with glass dome is required.
---
Interfaces and Software
The sensor offers both an RS-485 and a USB interface for remote operation. The addressable RS-485 interface allows very long supply lines. Multiple CSS-45 sensors can be operated together under RS-485 control as well as in USB remote operation. In addition to the provided end-user software, a software development kit (SDK) is optionally available for simplified integration of the sensor into user written software.
---
Numerous metrics for a wide field of measurement applications
The CSS-45 includes an integrated processor. It calculates a comprehensive set of radiometric, photometric and colorimetric quantities from the measured spectral measurement data.
---
Additional metrics support further applications:
Horticultural lighting – PAR measurement Photosynthetic Photon Flux Density (PPFD) in μmol/m²s
Human Centric Lighting – melanopic irradiance and illuminance (CIE S 026:2018), melanopic daylight equivalent illuminance
Phototherapy – total irradiance for bilirubin, Ebi, in mW/cm2 (IEC 60601-2-50) as well as average spectral irradiance in μW/cm2/nm (American Academy of Pediatrics)

Enables CCT measurements to be fully automated in the official DALI Alliance tests in accordance with IEC 62386-209 (colour control gear).
---
Accessories
The light sensor CSS-45 can be combined with the control unit CSS-D in order to be used as a handheld light meter.
---
Traceable factory calibration
An essential quality feature of light measuring instruments is their precise and traceable calibration. The calibration laboratory of Gigahertz-Optik GmbH guarantees the high quality and traceability of their factory calibrations. Calibration of the CSS-45 is confirmed by a factory calibration certificate.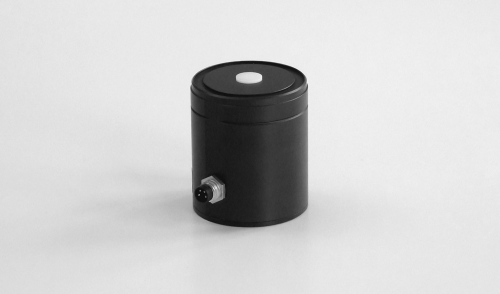 Spectroradiometer sensor CSS-45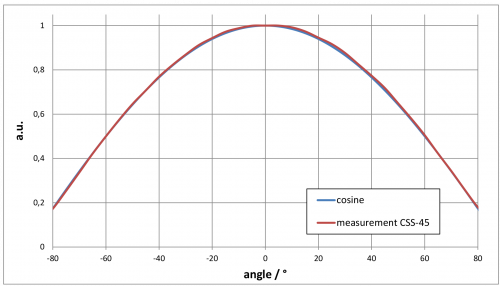 CSS-45 cosine field of view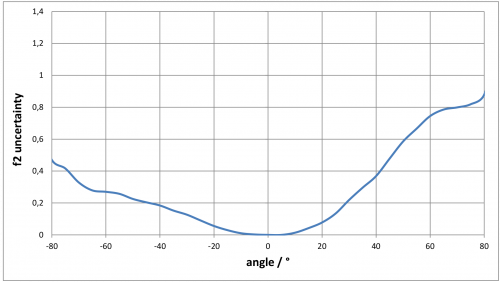 Angle dependent f2 error of CSS-45
Typical spectral responsivity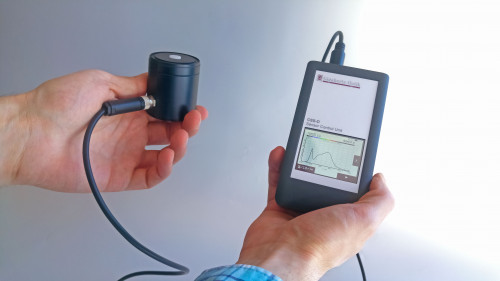 Use of CSS-45 as a handheld instrument by combining it with the control unit CSS-D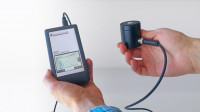 Compact and cost effective spectral light detector for conventional and LED lighting