This Product is discontinued, please refer to the Alternatives shown below under Similar Products or contact us directly.
Alternative Products for this discontinued product:
LCRT-2005-S
Light-transmission hand-held meter for thin and flat samples
Fast and precise because of spectral monitor and luminance detector
Spectral measurement
Automatic ambient light compensation
Alignment camera
ECE R43 compliant. Simulated A, C and D65.
Light transmission
Light transmission is the visually sensed light permeability of materials. It is particularly important when it comes to specification of window panes on all types of vehicles, display sheets and disks as well as all the other samples whose transmission is assessed with the photometric responsivity (V(λ)) of the human eye.
---
Light transmission measurement
Light transmission is a relative measurand. It describes the signal difference of the measured luminance in a geometrically defined radiation beam path. The measurements are done both without a test sample (100%) and with a test sample. The light source of the measurement device must be characterized by a spectrum that corresponds to the standard illuminant type A, C or D50. The spectral responsivity of the receiver must match that of the human eye. These properties allow ECE R43 conform measurements.
---
LCRT-2005-S light transmission measurement device
The LCRT-2005-S is elaborately designed for light transmission measurement of thin, scratched and clear samples. The D/O measurement geometry comprises of an integrating sphere light source and a luminance measurement device. The monitor detector of the light source and that of the receiver are equipped with a diode array. The spectral measurement data enables precise simulation of the standard light spectra and the photometric responsivity spectrum of the receiver. The sample is aligned in front of the light source for measurement. The degree of light transmission can thus be determined through diffuse sample illumination for thin scratched samples as well.
---
LCRT-2005-S spectrophotometer
The LCRT-2005-S can also be used as a spectrophotometer due to its spectral measurement detectors in source and receiver. The spectral range is between 425 and 705nm.
---
Measurement device for freehand measurements
The integrating sphere light source is well guarded against shock and stains by its synthetic coating, LED lamps and the protective glass on the illumination field. In order to minimize any effects by ambient light, the measurement is performed using pulsed light. The device is also equipped with a camera to aid in alignment of the source and receiver for freehand measurements. The device can be powered using four AA batteries or via USB. A hard-top casing is also supplied for safe storage and transport of the device as well as its spare batteries and accessories.
---
Fast and simple freehand measurements
One of the characteristic properties of the LCRT-2005-S is its ability to easily perform a quick measurement in only a couple of minutes:
1) Connection of the source and receiver to the controller device
2) 100% adjustment measurement
3) Alignment to the test sample
4) Automatic start of the measurement
5) Display of the measurement values
---
USB interface with readout software
The USB interface enables data readout and power supply. The software delivered with the device can be used for measurement data readout.
---
Traceable measurements
Two transmission standards with 70% and 80% light transmittance are offered for device matching in applications where traceable measurement values are required.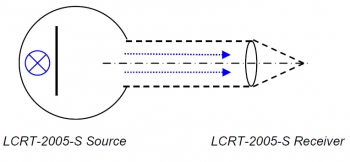 Measurement geometry: 100% setup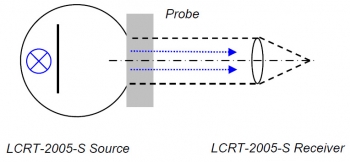 Measurement geometry for thin, non-scattering samples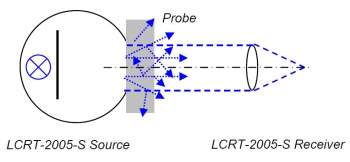 Measurement geometry for thin, scattering samples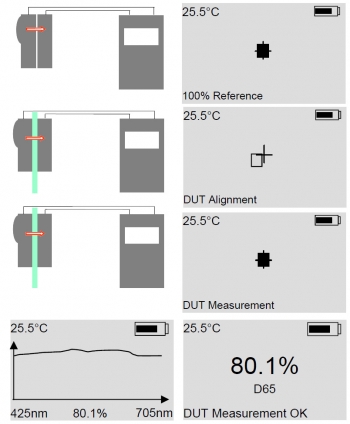 Freehand light transmission measurement: 1) 100% adjustment 2) sample alignment (DUT) 3) automatic measurement start upon setup, 4) Display of the measurement values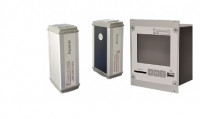 Light-transmission gauge for precise measurement and fast data logger application. Features: Precise because of spectral monitor and luminance detector. Fast data-logger measurements with photodiode. Simulated A, C and D65. LAN, USB, RS232 Interfaces.