This Product is discontinued, please refer to the Alternatives shown below under Similar Products or contact us directly.
ODP97
White diffuse reflecting barium sulfate coating. Features: High quality barium sulphate in water solution with low binder content. Spectral range from 350-2500nm with 97% at 555nm.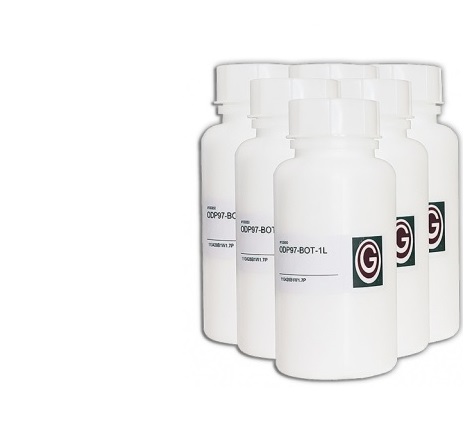 Barium Sulfate (BaSO4) is a white powder used in optical applications due to its relatively flat spectral reflectance response within the UV-A to NIR wavelength range. In solution Barium Sulfate exhibits a diffuse reflectance characteristic and is resistant to high intensity optical radiation. The powder can be compressed into tablet form for use as reflectance and can also be supplied in solution for spray coating large surfaces.
---
Gigahertz-Optik developed and manufactures its own barium sulfate solution for coating its world class line of integrating spheres and accessory products. Carefully selected materials and preparation processes are used to produce the coating.

---
Gigahertz-Optik also offers the coating as a standard sales product under the product name ODP97.

---
ODP97 is a spray ready barium sulfate & water mixture for use as a coating for diffuse reflectance plates and integrating spheres. ODP97 is supplied in a 1liter bottle.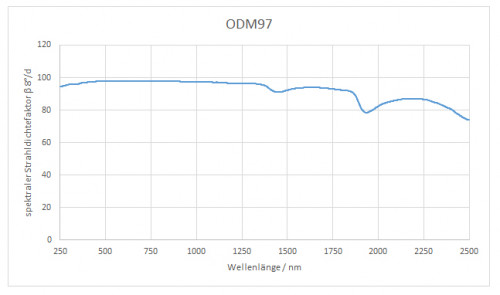 Wavelength / nm - Typical Spectral Reflectance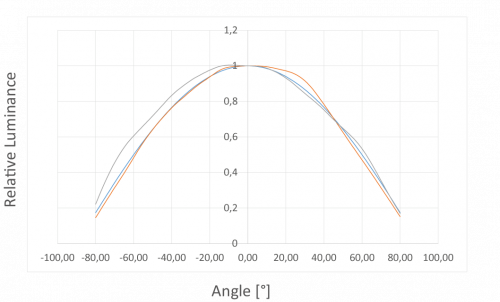 Angle / ° - Typical Diffuse Reflectance Characteristic