This Product is discontinued, please contact us if you are still interested.
UMTB-1000-HFT
Sphere for the luminous flux measurement of 2π and 4π light fixtures inside a sphere. Features: Turnable Integrating sphere with a 1000 mm diameter, extra measurement ports for 2π luminaires with diameters of up to 254mm and auxiliary lamp.
turnable Integrating sphere for the luminous flux
One of the main applications of integrating spheres is luminous flux measurement of lamps and luminaires. The integrating sphere hereby acts as an integrating element for all light emitted by the lamp. Integration within a closed hollow sphere takes place through multiple reflections on its diffusely reflective surface. Baffles are used to prevent the test lamp from directly illuminating the light meter.
---
Vertical, horizontal and hanging operating position
It is always recommended that the test lamps be measured in the same position as that of their intended later use. This makes it possible to also take into account eventual thermal effects. 180° rotation of the UMTB-1000-HFT sphere and the sample holder is hereby possible enabling the test lamp to be operated in a vertical, horizontal or hanging position.
---
Height-adjustable sample holder with a connector for four-pole measurement sockets
The sample holder of the UMTB-1000-HFT is designed to be adjustable for the proper alignment of different test lamps at the center of the sphere. In addition to the 10mmØ AP connector for calibration lamps and measurement sockets, it also has a universal adapter plate.
---
Openable integrating sphere
The UMTB-1000-HFT integrating sphere can be opened thus enabling easy alignment of the test lamp and sample holder. Optional measurement port An optional measurement port with a 254mm diameter is offered for large-sized spotlights. This measurement port is closed using a plug when not in use.
---
Optional measurement port
An optional measurement port with a 254mm diameter is offered for large-sized spotlights. This measurement port is closed using a plug when not in use.
---
Auxiliary lamp
The standard auxiliary lamp is used to compensate for reflection and absorption effects of the test lamp on the measurement results.
---
Mounts for different light meters
Gigahertz-Optik GmbH recommends its BTS256-LED and BTS2048-VL light meters for luminous flux measurements using the UMTB-1000-HFT. Both are equipped with a BiTec light sensor for high-quality measurements of the luminous flux, luminous spectrum and light color. For more detailed information on these cutting edge light meters, see the respective data sheets.
---
Calibrations
Gigahertz-Optik GmbH operates one of Europe's leading calibration laboratories for light meters. The laboratory is accredited by DAkkS(D-K-15047-01-00) for the "spectral irradiance" and "spectral responsivity" radiometric measurements. Factory calibrations are traceable to the reference standards of the accredited calibration laboratory.
---
Integrating sphere from the manufacturer
Gigahertz-Optik GmbH manufactures integrating spheres, including the barium sulfate sphere coating. In addition to production of customer-specific spheres, Gigahertz-Optik also inspects the complete production process and thus ensures the high quality of its integrating spheres.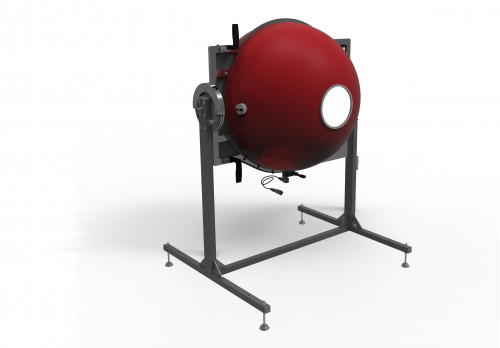 UMTB-1000-HFT, integrating sphere for measuring luminous flux, rotatable
rotatable sphere with sample holder for 1. vertical, 2. horizontal and 3. hanging operation of the test lamp. V02 with additional port.