This Product is discontinued, please refer to the Alternatives shown below under Similar Products or contact us directly.
Alternative Products for this discontinued product:
X1-UV-3725
UVC Radiometer for Low Pressure Mercury Lamps
UVC radiometer for measuring germicidal efficacy and health hazard of low pressure Hg light sources
Four-channel USB Optometer with separate UVC irradiance detector with traceable calibration
Cosine weighted response for accurate irradiance measurements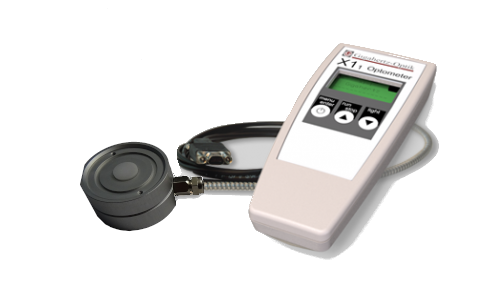 UV-C Disinfection of Air, Water and Surfaces
Using ultraviolet germicidal irradiation (UVGI) fixtures such as 254 mm low-pressure mercury lamps to produce UV-C disinfection waves, is an effective technique for the disinfection of air and surfaces.
UV-C disinfection is being increasingly used in healthcare facilities to combat Healthcare Acquired Infections (HAI's).
UV-C lamps in the Heating Ventilation and Air Conditioning (HVAC) systems can prevent the transmission of airborne pathogens such as tuberculosis bacteria and influenza viruses.
Portable UV-C lamp systems are used in the process of decontaminating patient rooms or surgical suites.
Validating the effectiveness of the germicidal UV dose – particularly as those low-pressure Hg light sources age, is an ongoing concern. UVC radiometers measure the UV irradiance at the location of exposure. If there is a possibility of human exposure to the UV radiation, the potential risk to skin and eyes from relatively low UV intensity also needs to be determined. Carrying out both of these measurements with one device requires UV radiometers with a very large dynamic range. Having a portable, hand held lab quality UVC meter for in the field use is a definite plus.
X1-UV-3725 UVC Radiometer System for Measuring UV-C of 254 nm germicidal light sources
The X1-UV-3725 UV-C Radiometer features an X1 four-channel optometer and a UV-3725 irradiance detector ideal for both germicidal effectiveness and UV hazard measurement of low pressure mercury lamps at 254nm. The detector assembly is pre-aged to increase stability over long term use.
Accurately measure germicidal irradiance levels up to 2000 mW/cm²

Assess UV-C risk hazard down to 0.002 µW/cm²

Individually calibrated for spectral irradiance responsivity at 254 nm

Cosine corrected field of view

Peak hold function allows unmanned UVGI measurement in unoccupied areas

Protective stainless steel sheath protects UV degradation of detector cable

Optional software for remote control and datalogging via PC

Portable, hand held system for in the field use
One of the unique features of the X1-UV-3725 is its ability to measure both germicidal UV output to ensure efficacy and ICNIRP/ACGIH/ IEC 62471 hazard weighted irradiance values (µW/cm²) for a 254 nm low-pressure Hg lamps.
Calibration
One essential quality feature of radiometric devices is their precise and traceable calibration. The calibration is performed by Gigahertz-Optik's calibration laboratory that is accredited by DAkkS (D-K-15047-01-00) for the spectral responsivity and spectral irradiance according to ISO/IEC 17025. The calibration and calibration values are confirmed by a calibration certificate for every detector.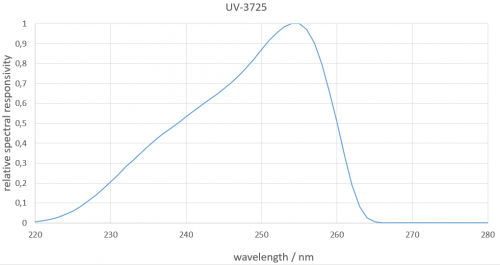 Typical spectral responsivity of UV-3725 detector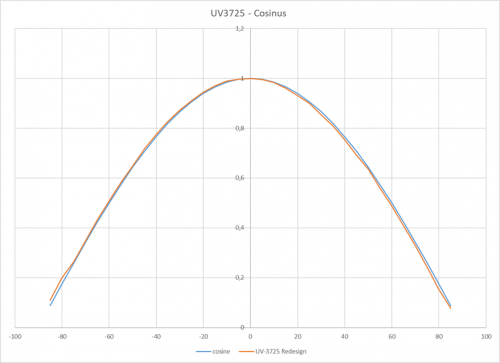 Typical field of view with excellent cosine correction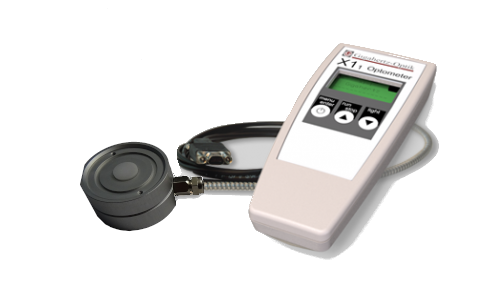 Mobile UV radiometer with separate measuring device and detector for measuring the irradiance and dose of germicidal mercury lamps.