This Product is discontinued, please refer to the Alternatives shown below under Similar Products or contact us directly.
Alternative Products for this discontinued product:
P-21
Multi-Purpose Touchscreen Optometer for Measurement of CW-, Single Pulse and Modulated Radiation in any Photometric and Radiometric Application
Compact for field service and feature packed for laboratory use
Multi-functional color touchscreen and 3-button intuitive menu operation
Calibration data connector for simple & unlimited detector exchange
Measurement of DC, AC, single pulse and modulated radiation
Adjustable integration time from 100 µs to 6 s
Over sixteen different measurement modes & functions
S-P21 Software & S-SDK-P21 Software Development Kit available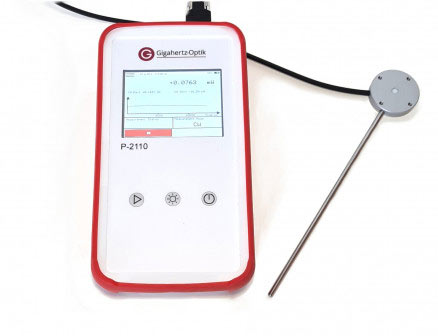 P-21 – Multi-Functional Color Touchscreen Light Meter for High-Quality Photometric and Radiometric Measurements
The P-21 optometer is a high-quality device designed by Gigahertz-Optik for mobile use. Its signal amplifier provides a wide dynamic range for the detectors' signal currents ranging up to 2 mA. The noise-equivalent current signal is as low as 0.1 pA. The device has eight gain ranges that can be manually or automatically selected for adjustment to match the signal levels. It overs a large color touchscreen and three manual buttons for versatile usage. The intuitive menu and the analog output and trigger make this device to the all in one solution.
Optometer offering many Different Measurement Modes
One of the characteristic properties of the P-21 optometer is the large range of measurement modes:
CW: Used to measure continuous DC or AC signals at the selected integration time from 100 μs to 6 s. The reading, units of measurement and the selected wavelength as applicable for the connected detector are displayed. Manual or auto-range operation as selected.
CW dose: Measure values are summed at a logging rate of one second and the value displayed as the integrated energy. The dose function can be manually run/stop or automatically run/stop at preset dose measurement times (timing based starting from 1s or a max dose level) with status display.
Pulse energy with analog output and trigger function: Energy measurement of a single or pulse chain within a selected time span.
Pulse offset: A preset value, such as the ambient light level, is subtracted from the I-Effective and Pulse Energy reading. User selects 'Static Offset' to subtract a constant value. 'Continuous Offset' subtracts the actual measured value before the pulse measurement starts.
Peak/Peak or Peak minimum or maximum: These modes allow analysis of signal stability with the selected integration interval (e.g. flicker). The min, max or p-p values are displayed together with the CW average value. Only signals longer than the gain dependent slew-rate can be measured.
I-Effective luminous intensity: Evaluation of the effective luminous intensity of flashing sources (single flash) per Schmidt-Claussen or Blondel-Rey methods.
CW offset: Subtracts a constant offset value, ambient light level for example, from CW reading
CW minimum or maximum: Minimum or maximum reading attained during measurement period is displayed along with the current reading
CW level check: Compares the measured CW value with a stored preset upper and lower limit values
Analog output: Direct analogue amplifier output.
Ratio (relative (%), log (db), factor): Measurement of the ratio between a reference value and actual measured value and displayed as relative ratio (%), log ratio/attenuation (db or dBm) or ratio factor
Reference: Used in ratio measurement mode. Values can be set to 1 with selected unit (W, A, etc.), or a CW measured value or manually entered value. Ref value 1.000 mW can be used to measure attenuation in dBm.
Hold: Freezes currently displayed reading
Datalogger: More than 12.000 data points can be stored with a sample rate of 0.1 s to 9999.9 s.

Manual entry of calibration data: For individual calibration correction factor entry
Default initialization: Resets all parameters to factory default condition
Convincing Measuring Instrument Features (Selection)
Compact precision instrument for field service and feature packed for laboratory use
Multifunctional color touchscreen and intuitive 3-button menu operation (pure button, mixed use as well as pure touch use allow all functions)
Calibration data port in detector basket for easy detector replacement
Measurement of DC, AC, single pulse and modulated radiation
100 µs fast sampling rate
Adjustable integration time from 100 µs to 6 s
Wide dynamic range of detector signal from 0.1 pA to 2 mA
USB interface for remote control operation (additionally RS232 and RS485 available)
Trigger In/Output via DSUB as well as Analog-Out
S-P21 software & S-SDK-P21 software development kit available
Adapter cable available to use P-21 (-5 connector) with P-9710 detectors (-2 connector)
Bases for Photometer, Radiometer, UV-Meter, Laser-Intensity-Meter Application
For use as optometer the P-21 can be combined with all offered detector heads intended for photometric and radiometric measurements. The plugged detector head determines the photometric or radiometric measuring size as well as the spectral range of the measurement. Gigahertz-Optik offers a wide range of detector heads for various measuring tasks. The optometers' signal input amplifiers offer a very wide dynamic range, in order to adjust the devices to detectors with various sensitivities and optical radiation intensities. The calibration data of the detector heads are saved in the calibration data plug of the detector heads.
Simple and Safe Detector Exchange
Upon attachment of a detector head with a calibration data plug (-5 connector, adapter for DSUB possible) onto the P-21 optometer, its calibration data as well as the device settings are automatically applied. This ensures that improper operation that might result from exchange of measurement heads is basically ruled out.
Multi-Purpose Device and Special Version for pulsed Light Sources
The P-2110 is the multi-purpose device with fast response times optimized for versatile measurements. The P-2120 version is based on a fixed 20 ms response time for all amplifier ranges in order to strech pulses for a higher sampling of pulsed light sources.
Remote Operation and Software
The P-21 optometer can be connected to a PC via its USB interface. The device can be fully controlled with the S-P21 user software. With the optional S-SDK-P21, programming of own software or integration of the device into own software is possible. Included programming examples facilitate the start.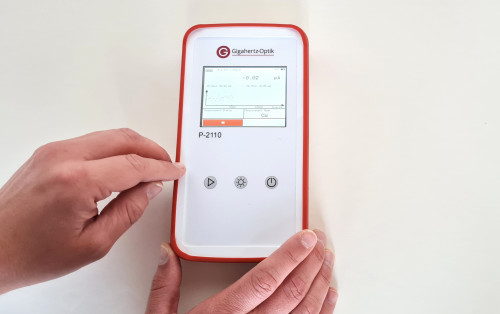 P-21 Optometer in combination with ISD-xxP-SP series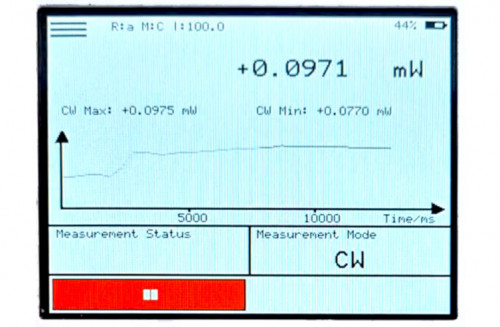 Display with timed logger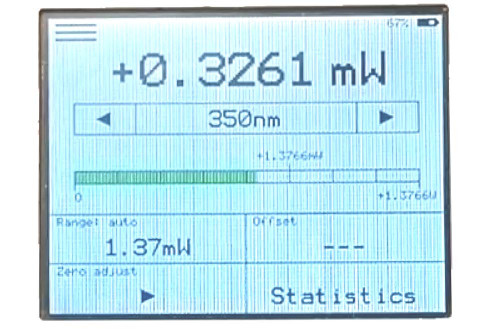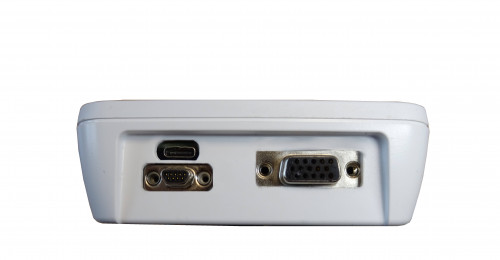 The P-21 offers a trigger input, analog output, USB, etc.