UPB-150-ARTA
UPB-150-ARTA
This Product is discontinued, please refer to the Alternatives shown below under Similar Products or contact us directly.
Alternative Products for this discontinued product:
UPB-150-ARTA
Integrating Sphere for Universal Use in Reflection, Transmission and Absorption Measurements
150 mm/6" sphere diameter
5 application ports
BaSO4 coating
Sheet and cuvette sample holder
Precise port alignment and uniform knife-edges due to CNC machined housing
Optional accessories available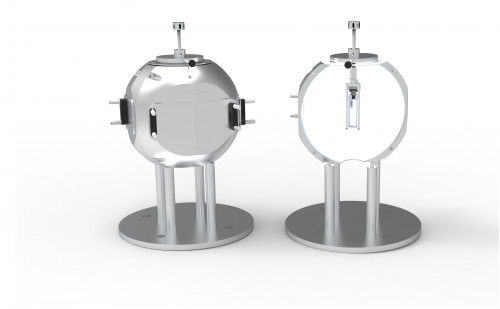 Photometry to determine optical material properties
Optical material properties is a general term used to refer to the reflection, transmission and absorption properties of a material. Photometry hereby refers to a measurement process through which material properties as well as photometric measurands are determined using a photometer.
---
Integrating sphere photometer
The integrating sphere is very common in both broadband and narrow-band photometric applications for diffuse sample illumination and detection of the reflected and transmitted light proportions.
---
UPB-150-ARTA precision integrating sphere
With the 150mm diameter, the UPB-150-ART provides a good compromise in terms of precision of the sphere function and level of the measurement signal. Its production from a solid aluminum block ensures a very precise alignment of the measurement ports to each other. Another characteristic property are the thin circumferential knife-edges of the measurement ports that enable a high acceptance angle for diffuse light.
---
Multifunctional integrating sphere
The UPB-150-ARTA is ideal for multiple functions thanks to its five knife-edged measurement ports that can be used either while open or closed and the sample holder for cuvettes and sample glasses. The possible measurement setups include:
Absorption
Photoluminescence
Organic electroluminescence
0°/d reflection
8°/d reflection with and without glamour
0°/d directed and diffuse transmission
Measurements substitution correction
Two-ray measurement setups
Luminous flux measurements
---
Accessories for individual sphere assemblies
Port plugs and port reducers that can easily be fixed and removed using the Slide & Fix holder are offered for either closure or reduction of ports. An important feature of the UPB-150-ARTA is that the front side of the port plugs and reducers projects into the port and is on the same level as the sphere surface.
---
Universal sample holder for the measurement ports
The sample holder is fixed and slid onto the posts of the Slide & Fix holder and ensures secure mounting of thin and thick samples. An important feature of the Slide & Fix system is that it can be combined with port reducers and a light trap.
---
Light trap with Slide & Fix holder
The light trap has a 30mm input port and ensures minimal back reflection over the entire usable spectral range of the integrating sphere through its internal design and black absorbing coating. The Slide & Fix holder can be used to combine the light trap with port reducers and the sample holder.
---
Quick-change holder for detectors and light guides
Removable adapters are offered for mounting of detectors and light guides. Detector adapters for reflection, transmission and luminous flux set-ups are equipped with a baffle that can be aligned to one of the five measurement ports accordingly. The detector adapters for absorption, photoluminescence and organic electroluminescence have a baffle aligned to the center of the sphere. The UMPA port adapters of our modular integrating spheres can hereby be used. It is also possible to connect one of our fiber-coupled spectrometers BTS2048-VL-TEC-F or BTS2048-UV-F.
---
Sample holder for cuvettes and small sample plates
In order to perform absorption measurements in fluids, the UPB-150-ARTA can be equipped with an axially revolving sample holder for 10x10mm cuvettes. The clamp sample holder on the other hand enables fixation of test glass samples and thin foils. Photo-luminescent samples can be stimulated through the measurement ports e.g. using a laser. Electric wires can be added through the hollow axle of the sample holder to operate the sample for measurement of the organic electroluminescence.
---
Reflection coating made of barium sulfate
The UPB-150-ARTA is coated with Gigahertz-Optik's self-manufactured diffusely reflective barium sulfate (ODP97) coating. The multi-layer coating ensures good diffuse reflective properties over the entire usable spectral range.
UPB-150-ARTA multi-port integrating sphere with Slide & Fix system for mounting of the accessories
Alignment of the five measurement ports of the UPB-150-ARTA enables universal use of the sphere.

The front side of the port plugs, port reducers and sphere surface are at the same level and thus ensure an almost ideal reflection surface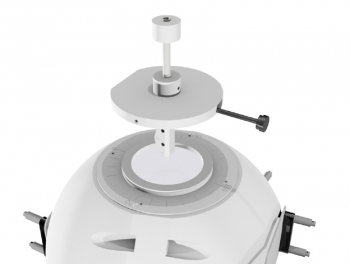 The UPB-150-ARTA is fitted with a revolving sample holder for cuvette and plate samples for absorbance measurement applications.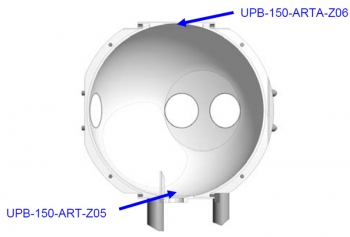 The upper sphere port is closed with a spherical port plug so as to perform reflection, transmission and luminous flux measurements.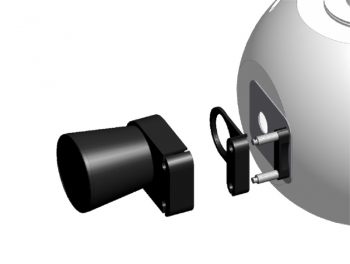 Light trap for absorption of directed proportion of the reflection at 8°/d measurement setup as well as the transmittance of transparent samples. Can be combined with port reducers and sample holder.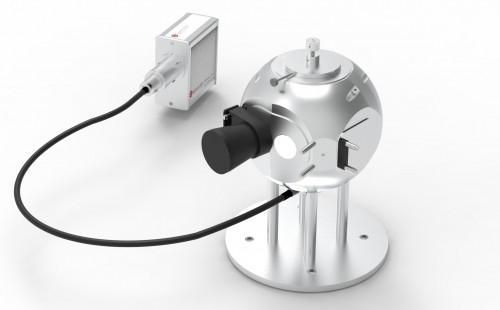 BTS2048-XX-F spectrometer used as detector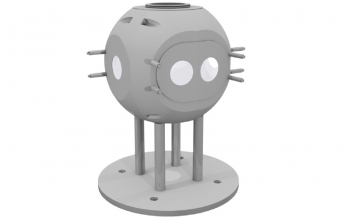 UPB-150-ARTA, base sphere with stand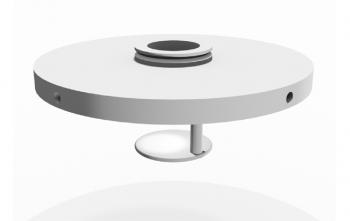 UPB-150-ARTA-Z01, detector port adapter with baffle aligned to the sphere center. UMPF-0.5 port frame
UPB-150-ARTA-Z03, revolving base for the cuvette and clamp sample holder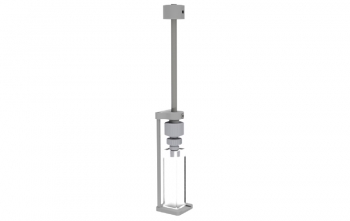 UPB-150-ARTA-Z04, cuvette holder. Hollow post
UPB-150-ARTA-Z05, clamp holder for test glass and foils. Hollow post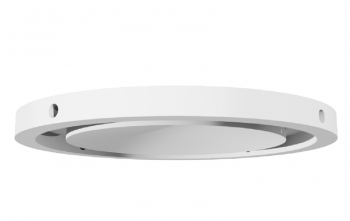 UPB-150-ARTA-Z06, plug for the upper sphere port. Spherical plug shape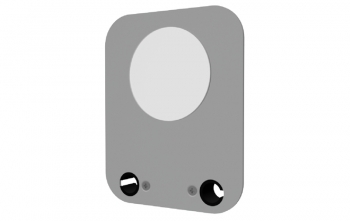 UPB-150-ART-Z01, port plug with flat surface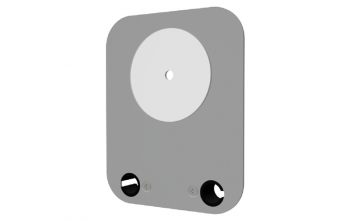 UPB-150-ART-Z02-3, 3mm port reducer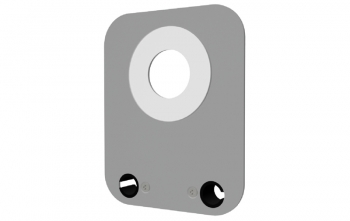 UPB-150-ART-Z02-15, 15mm port reducer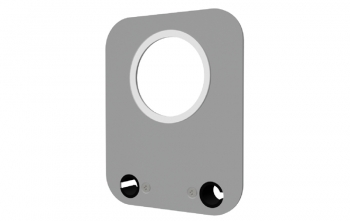 UPB-150-ART-Z02-35, 25mm port reducer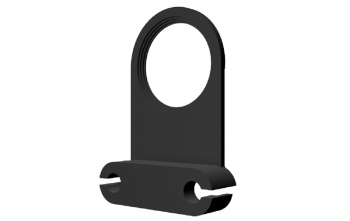 UPB-150-ART-Z03, sample holder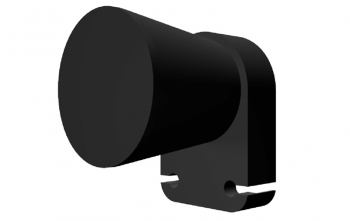 UPB-150-ART-Z04, light trap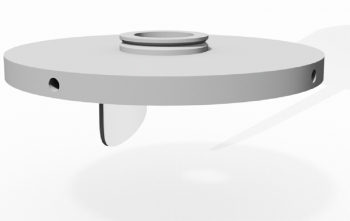 UPB-150-ART-Z05, 0.5" detector mount with baffle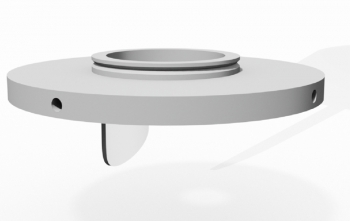 UPB-150-ART-Z06, 1.0" detector mount with baffle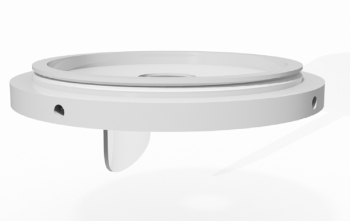 UPB-150-ART-Z07, 2.0" detector mount with baffle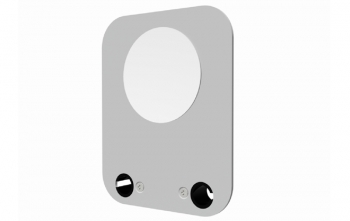 UPB-150-ART-Z09, port plug with spherical surface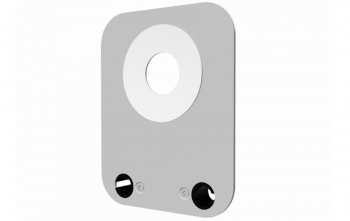 UPB-150-ART-Z10, port reducer with spherical surface. Free diameter as specified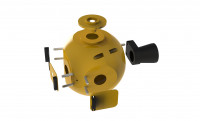 Gold Coated Integrating Sphere for Universal use in Reflection and Transmission Measurements