This Product is discontinued, please refer to the Alternatives shown below under Similar Products or contact us directly.
Alternative Products for this discontinued product:
LS-OK30
Light source for use with the UM series modular construction integrating spheres
External source for LH-F series halogen lamps up to 100W
Diffuse reflector with synthetic coating
Fan fo active air-flow lamp socket cooling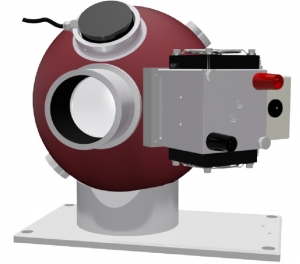 The LS-OK30 light source can be fitted with a 5W to 100W LH type halogen lamp. The lamp is placed within a diffuse reflecting hemispheric reflector. This improves the luminous flux efficiency and the light coupling homogeneity. At the lamp foot, an active air current is used for heat dissipation purposes. The LS-OK30 can be attached onto the UMPF-LSOK30 port frame either with or without accessories.