LED, Micro LED (µ-LED) and VCSEL Measurement Systems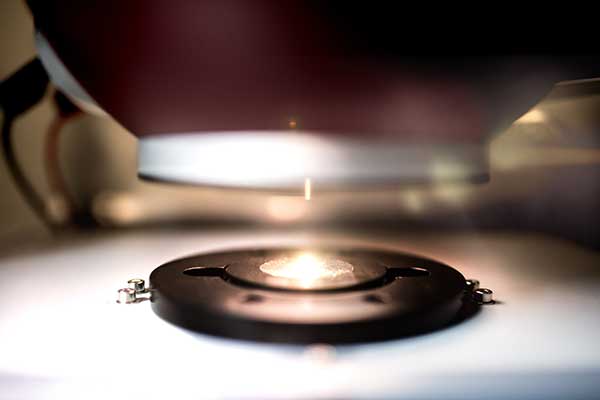 LED, Micro LED and VCSEL Measurement Systems
LED technology continues to progress. The size of LEDs is steadily being reduced whilst at the same time, efficiency is being increased. Latest developments include so called VCSEL and micro-LED (µ-LED) devices. The microLED is an further development of the miniLED, or in other words the miniturization continues. It is an so called flat-panel display technology consisting of arrays of microscopic sized LEDs.
The advantages of Micro LEDs, also written µLEDs or microLED, include:
High Brightness: Micro LEDs offer higher brightness than traditional LEDs.
Low Power Consumption: Micro LEDs consume less power than traditional LEDs, making their operation cost effective.
Longer Lifespan: Micro LEDs have a longer lifespan than traditional LEDs, meaning they can be used for longer periods of time without needing to be replaced.
Smaller Size: Micro LEDs are much smaller than traditional LEDs (typically only a few micrometers (µm), allowing them to be used in applications where space is limited.
Higher Contrast: They are offering a pixel-level light control and a high contrast ratio.
A VCSEL is a "Vertical Cavity Surface Emitting Laser" Diode. They are attractive due to their:
Low cost and can be tested directly on the wafer, which is an large improvement.
Relatively small size, although larger than µLEDs.
Low power consumption and high power outputs are possible.
VCSELs are also more reliable than edge-emitting lasers due to their simpler structure and lack of cleaving.
The beam quality is quite high relative to the cost, so they can be used for a variety of applications such as LiDAR, etc.
Both new technologies have their markets and applications. Micro LEDs are used where smallest sizes are needed. VCSEL have the advantage of being able to produce laser-like beams of light with very narrow divergence angles, making them ideal for applications such as optical communications and sensing.
Optical Measurement Technology for micro LEDs and VCSEL
From a metrology point of view modern accurate optical measurement systems have to follow this development and make measurements easy and accurate at the same time. Measurands are radiant power or lumious flux, color coordinates for binning, color rendering index (CRI), TM-30, CIE-170, spectral distribution, etc.
Suited are high-end array spectroradiometers starting with integration times of 2 µs and different optical bandwidht (typically 0.8 nm to 2 nm) and spectral wavelength range (200 nm to 2150 nm) with individual integrating spheres (customized solutions) are needed, imaging optics like our LDM-C50 imaging spectroradiometer or low cost quality control sensors and waveform analyzers. In general not only the detection technology has to be perfectly suited to the micro LED and VCSEL measurement task, especially the entrance optic has to be customized to the specific application. For instance, the integrating sphere port might need a specific design to address the geometrical boundary conditions or the baffle design needs to be optimized for the emitting FOV of the light source.
For the accurate optical measurement of technologies like microLEDs and VCSEL an partner enabling accuracy is needed. We as worldwide known expersts in SSL measurement technology are able to characterice and correct our spectroradiometers, photometers and radiometers for highest accuracy and offer individual perfectly suited measurement solutions. We also know the available standards such as CIE S025 and others, so we offer measurement solutions that meet them.
Traceable MicroLED and VCSEL Measurements and Calibrations
ISO 17025 calibrations and low measurement uncertainties are the key for high quality measurement systems as provided by our product series for different metrics. Our in-house ISO 17025 accredited calibration laboratory offers the highest quality standard.